At the beginning of any new project, you will undoubtedly face the question: how to translate your idea into reality? Where to find experienced professionals and how to organize a team for development? We know how tiresome this choice can be, so let's outline the biggest advantages of both these options.
In this article, we'll help to learn further which path to go when considering in-house development vs. outsourcing software development.
[NAVIGATION LIST]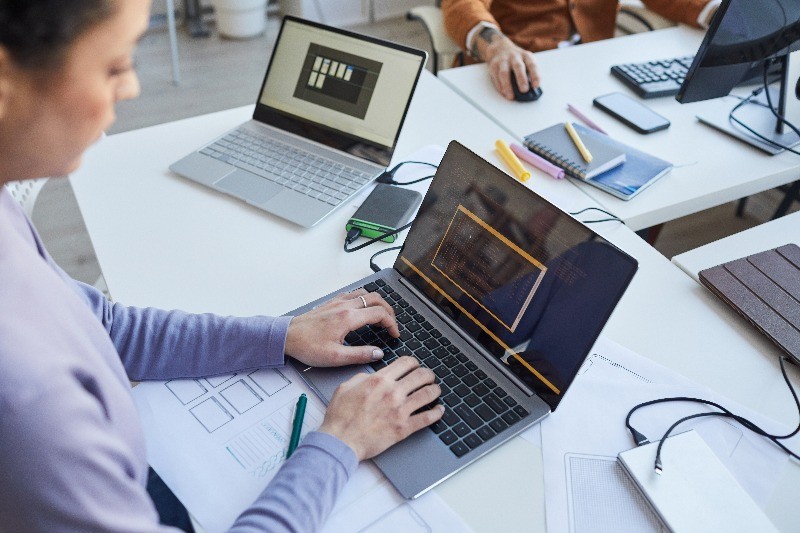 Advantages and Disadvantages of In-house Software Development
What is an in-house software development definition? It is a software development process that is run by a corporate entity for organizational usage. Let's see an example to better understand the in-house software development meaning. A company, which may relate to the IT sector, decides to develop its digital product. In this case, the app development company should use their own software developers (called in-house developers) to create the system and needs to conduct a hiring procedure to pick up the development team the project requires.
Though the cost of hiring staff is high enough, there are tons of advantages of in-house software development. A full-time in-house team is less expensive in the long run. To get the full picture of what the in-house process has to offer, let's examine its pros and cons.
Advantages of In-house Development
Several facts will provide you with the top reasons to choose this option:
No language/cultural boundaries. It is a team of professionals probably from the same country/city as you are, with the same cultural and language background working within the same organization. What advantages does hiring an in-house team give to you? Fewer boundaries and limitations, face-to-face communications, and, as a result, a better understanding of what should be done.
Deep involvement. It allows you to maximize the customization of the in-house engineering process for every minor tech need of your company. You can make appropriate changes in the development process easily to adjust the project to your business.
In-project expertise. Internal specialists master their skills in building the project you started and soon become narrowly focused professionals of the highest level. This reduces bugs and, in addition, it means that the support will be straightforward and efficient, and your company has enough skills to maintain the product independently.
Disadvantages of In-house Development
There are several disadvantages, too:
Huge price. It requires many funds to be invested in the initial stages, especially in small and large-scale projects. If the organization of the processes is poor, you'll need to spend money even on inactivity. However, in middle-scale projects where the product is a valuable resource, the scheme works well.
Staff dismissal. One of the biggest in-house software development risks is the dismissal of employees. After companies have invested significant resources in their onboarding, they can go away and you'll need to invest in new members of the team again.
The lack of expertise in different areas. There is another classic problem with an in-house candidates pool. In order to apply specific skills, you'll need to hire a specific candidate, and thus, rerun the hiring. The same situation is in the case of project expansion. If the employee works full-time in-house, you will have to pay insurance fees, premises, equipment, holidays, etc.
Companies Working With In-house IT Teams
Now that we wrapped our heads around the pros and cons of in-house development, we need to understand whether the pros outweigh the cons. Although the answer depends on your particular case, the following companies already opted for hiring in-house teams.
Amazon. This eCommerce giant hires in-house developers to deliver only brilliant solutions for the global online retail industry.
PayPal. Next time you use PayPal to make a transaction, remember: it is focused on the benefits of in-house software development.
Salesforce. This SaaS CRM system has dedicated clients worldwide and employs an in-house IT team as well.

Outsourced Software Development: Pros And Cons
As we've got some knowledge of in-house software development praise, let's overlook outsourcing as well. Outsourcing is a practice when an outsourcing company builds products for your company. Outsourcing companies can take on the task of building remote development teams to suit your requirements and budget, thus letting you focus on other important business objectives. Outsourcing software development also has both pros and cons to consider:
Pros Of Outsourced Software Development
Price-wise expertise. Outsourcing price is more reasonable than in-house software development because, typically, outsourced development teams have more development experience in different fields. If an unusual problem arises, there is no need to hire new specialists for your in-house IT team. With the proper planning, you can reach the same goal with a reasonable budget.
Smart time-to-market. Benefits of outsourcing include avoiding all major hiring and staffing issues, which usually occur if you practice in-house development. Using the resources of an outsourcing team, you can add new features to your product at any time, not being limited by the resources & skills of your in-house team. This definitely shortens the timing of the product launch as you save time on both looking for qualified developers and setting up the processes.
Easy scaling of teams. If you need to expand the development outsourcing team urgently or cut staff, you do not lose money. All the people on such projects are replaceable.
Streamlined processes. Upon turning to a specialized development agency, you can count on well-established development processes and application development experience. All the processes are properly set up.
Cons of outsourcing software development
We prepared an overview of outsourcing disadvantages as well:
Mutual understanding. Although the geographical and language barriers have become a thing of the past when it comes to app outsourcing, the requirements are the main source of coherence for your company and developers. The vendor will develop a product according to agreed specifications, so you have to be sure you are on the same page regarding the acceptance criteria.
Transparency and security risks. The lack of direct in-person control and communications can cause a lack of trust to have a place during project development. Although, it depends on the specific contractor/developer. This issue can be limited by choosing the right partner. Be sure that you agree on the way of reporting, acknowledgment, meeting schedules, which are comfortable for both parties.
Risk of receiving the unsupported code. If you outsource your strategically important product, make sure you can maintain the code without contractor involvement. Otherwise, your business will become dependent on the outsourcing apps development team. Although, of course, the quality of the code depends on the integrity of the contractor. With the right partner, you can avoid these cons of outsourcing.
Roles you can outsource
Now that you know all the advantages and disadvantages of outsourcing software development, let's see what responsibilities you can pass to your software outsourcing partner. There is no need in delegating the entirety of the project to an offshore team as you can choose from different software outsourcing options:
IT engineering roles. In a battle of in-house vs. outsourcing software development, the engineering services costs make a difference. If you want to get a high-quality iOS mobile solution, it will cost you around $150 per hour in the USA and only $35 per hour in Eastern European countries. So, if you outsource engineering roles to a company in Eastern Europe, you'll save $115 per every working hour.
Customer support services. If you are a small or midsize business considering in-house or outsourced services, remember this: it makes more sense to cooperate with an offshore support team in the country where your clients are based. Such a support outsourced software development team will be a lot better at meeting the needs and answering the questions of the clients living in the same region.
Marketing responsibilities. An experienced marketing company can promote your product in a better way than an in-house IT team can. The outsourcing development team can include multiple specialists who will develop a powerful marketing and advertising campaign for your product.
Companies that outsource
The global outsourcing market size reached over $85 billion in 2018. Particularly, $62 billion of them were spent on IT services outsourcing. We have already looked at the companies that choose to hire in-house workers, but how about getting a full picture and comparing in-house vs. outsourcing examples?
More and more companies turn their heads towards outsourcing, and here are just some of them:
Google. This multinational corporation opted for the benefits of outsourcing. Mainly, it is a software development and technical support that are outsourced.
Alibaba. The profit of this China-based eCommerce platform is growing every year. Surprisingly, its path to success started from outsourcing a small eCommerce website to a US development company.
Basecamp. Basecamp is a tool for efficient product development and management. As the company's founders noticed the growth of demand for their product accelerated, they chose outsourcing as the best option.
Good Compromise: Hybrid Approach
If you can't define the in-house development vs. outsourcing battle winner, consider the third option. The hybrid approach is a combination of on-site and outsourcing software development pros and cons. From the initial idea to the product launch, there are several stages where in-house specialists can provide more value. On the contrary, outsourcing is cheaper and simpler, so you may outsource some tasks.
Pros of the hybrid approach
There are two key reasons why the hybrid approach is popular with businesses:
Impeccable project organization. This approach creates a good environment for efficient planning, in-depth analysis, and task delegation. You can decide which services to outsource and which tasks to work on in your office.
Optimal costs. Software outsourcing allows for reducing costs. On the other hand, in-house engineering is more cost-efficient from a long-term perspective. The hybrid approach allows deciding which offshore specialists to cooperate with and which would be better to hire on-site.
Cons of the hybrid approach
The hybrid method can be rather challenging, and here are two reasons why:
Time losses. You need to spend time analyzing the current situation in the market and foresee which steps will bring you the optimal results.
Complexity. The in-house processes differ from organizing outsourcing work. The hybrid approach combines them, hence creating challenges for the business owners to manage both types of operations.
Hybrid vs In-House vs Outsourcing Software Development: Comparison
| | | | |
| --- | --- | --- | --- |
| | In-House Development | Software Outsourcing | Hybrid Approach |
| Costs | High | Lower, depending on the outsourcing team you choose | Cheaper than in-house, more expensive than pure outsourcing |
| Expertise | Narrow | Extensive expertise in various fields | Extensive |
| Speed | Low | High | High |
| Quality | High, meets the expectations precisely | High | High |
| Security | High | Lower but can be improved with the help of NDA and similar agreements | Lower but can be improved with the help of NDA and similar agreements |
| Management | Well-established processes and seamless communication | Less manageable but depends on the outsourcing team you choose | Complicated as it requires handling both in-house and outsourcing team issues |
| Recruitment and Hiring | Complex | Addressed by your outsourcing partner | In-house team recruitment requires your time and resources, and your outsourcing partner provides you with a complete team |
What Is Your Best Choice?
Summing up the issue of in-house vs. outsourcing software development options, it must be said that both of the models have their benefits, but there are also disadvantages. The choice depends on the specifics of the project.
The main rule when choosing the in-house or outsourced web application development is as follows: if web or desktop application development or maintenance is not the core capability of your company, it could be a considerable challenge to your IT staff to get it right. They may lack the experience or understanding of getting it done. Then, after unsuccessful attempts to do it in-house, you can land up with an outsourced product. In that case, building an in-house product is not well worth choosing.
On the contrary, it will be wiser to outsource it. The app development company that is an expert in its niche will make your product competitive and drive more customers. Luckily, today, there are many business application development services, so it won't be a problem for you to choose the one that suits your development needs the best.
By the way, Artelogic is one of the leading outsourcing software development providers. It has a diverse portfolio of software development outsourcing projects and boasts lots of returning customers. Moreover, our development company hires several in-house teams to help you with your project. Every software development team is an expert in its particular development niche. In a nutshell, we can help you with any project regardless of its needs, size, and budget. Contact us to learn more about software development outsourcing and receive a free consultation.
FAQ
What is probably the greatest disadvantage associated with in-house developers?
The biggest disadvantage associated with in-house hiring is a steep price. Companies must pay extra for pension, taxes, benefits, office supplies, etc., all of which can be easily avoided with an outsourced software team. Besides the elevated costs, there is a lack of expertise that forces HR specialists to cherry-pick candidates for specific skills. Outsourcing companies offer various combinations of skills, so you will not have to worry about lengthy hiring processes.
What is the difference between software product development and outsourced projects?
Businesses that are looking into developing their software product may outsource the entire project altogether or hire an in-house team. Both options are popular and present their own benefits and drawbacks. For example, keeping the project in-house will give you more control over the tasks and goals. In contrast, outsourcing is generally cheaper but may come at a risk of losing some controlling and monitoring power. However, collaborating with a trustworthy and experienced outsourcing company will help you alleviate the risks.
Is outsourcing cheaper than insourcing?
If you are choosing between in-house vs. outsourcing software development on a tight budget, going with the latter is the best idea. Outsourcing is almost always a more affordable option for businesses, especially for small or large-scale projects.
How to calculate the costs of outsourcing software development vs. bringing it in-house?
Hiring an in-house team involves HR costs, onboarding, paying benefits and taxes, providing office space and supplies, etc. The costs of outsourcing vary depending on the complexity and duration of the project as well as on the service provider. Contact Artelogic, an industry-leading outsourcing provider, to receive a cost and time estimation.