In today's business climate, technology is more important than ever. Companies must have a robust online presence to compete, and they need to be able to adapt quickly to changes in the market. For many businesses, the Chief Technical Officer (CTO) is the key decision-maker regarding planning the technology upgrade. However, not all businesses have the resources to hire a full-time CTO. That is why the popularity of CTO as a Service is constantly increasing.
Let's discover the following topics:
What is a CTO as a Service, and what do they do for a business?
According to IBM research "The CTO revelation", since 2019, more CTOs are reporting increased capability maturity, including 600% more who are experiencing advanced digital process automation capabilities, 530% seeing advanced hybrid cloud operations, 353% realizing advanced cloud-native development, plus surges in those reporting the maturity of other key technologies.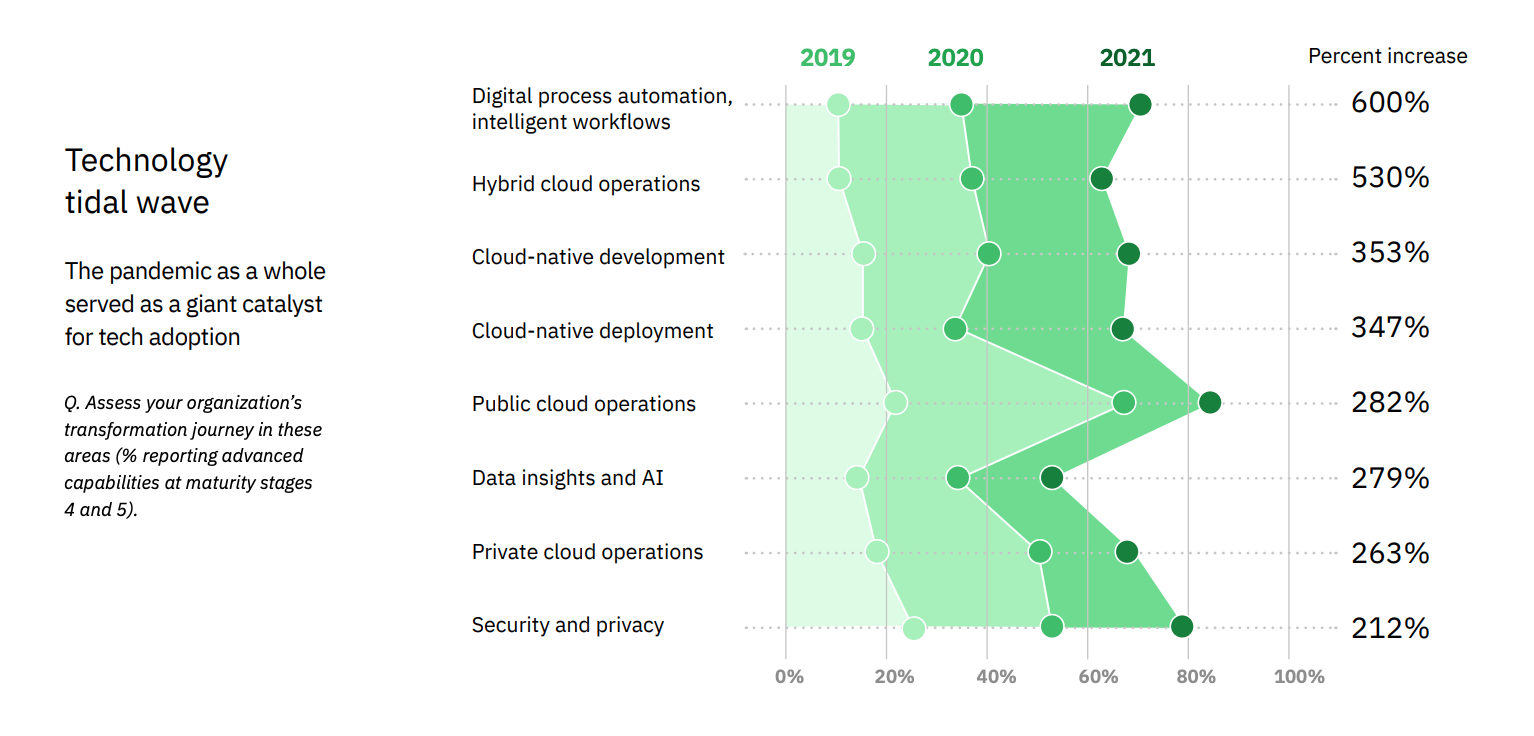 A Chief Technology Officer as a Service (CTOaaS) is an outsourced professional who provides strategic and technical guidance to businesses in information technology, product development, and data security. CTOaaS providers work with businesses to assess their needs and develop customized solutions that address these needs. In addition, CTOaaS providers also provide ongoing support and advice to businesses to ensure that their systems remain up-to-date and effective.
CTO as Service provider offers a variety of benefits to businesses, including access to expertise, flexibility, and cost savings. By working with a CTOaaS provider, businesses can focus on their core competencies and leave the management of their IT infrastructure to the experts.
The benefits of having an outsourced CTO on your team
An outsourced CTO can bring a wealth of experience and knowledge to your team. They can help you develop and implement strategies to improve your online presence and better compete in the market. In addition, an outsourced CTO can provide invaluable support during times of change or crisis. An experienced professional on your team can help you navigate challenges and make the best possible decisions for your business.
There are many cases when CTO as a Service can favor a business. Perhaps the most obvious case is when a business does not have the resources to hire a full-time CTO. By outsourcing this role, businesses can gain access to the expertise and knowledge of an experienced professional. In addition, outsourced CTOs can be more flexible than in-house CTOs and can often provide services at a fraction of the cost.
CTO consulting can also be helpful during times of change or crisis. When a business is going through a transition or experiencing difficulty, having an experienced CTO on board can help to navigate these challenges and make the best possible decisions for the company. Overall, CTO as a Service can be an excellent solution for businesses that need help with their information technology and product development strategies.
When a company plans to make a digital leap or needs to estimate the potential benefits of new technologies implementation precisely, a CTO is a proper expert who plays a crucial role.
"Most technology consulting cases are about assessing the feasibility of new technologies and developing a plan for their implementation. Many companies, especially SMEs, are looking for pre-estimation of the scope and budget of future digital transformation. That is a very common point, as businesses need to allocate resources and estimate the potential benefits that these new technologies could bring to the company. Experienced CTO can do it more precisely, given their solid background of delivered projects. By working with a CTO, businesses can make sure that they are making the best possible decisions when it comes to technology".
When it comes to the digital future of a business, the solution that a CTO makes can literally make or break the company. To ensure that your business makes the best possible technology decisions, it is essential to work with an experienced CTO who can help you assess the feasibility of new technologies and develop a plan for their implementation. By doing so, you can be sure your business is on the right track to success in the digital age.
Differences between technology consulting and CTO as a Service
As the world increasingly relies on technology, businesses are turning to technology consultants for help with everything from developing new products to streamlining their operations. However, there is a big difference between technology consulting and CTO as a Service.
Technology consulting is typically focused on providing advice and guidance on specific projects, while CTO as a Service is responsible for the overall strategic vision of the company's technology needs. This means that CTO as a Service is more involved in long-term planning and decision-making, while technology consultants focus on day-to-day implementation. Although both roles are important, they require different skills and approaches.
Tips for working with an outsourced CTO
When working with an outsourced CTO, clear communication is key. Explain your company's goals and needs so the CTO can provide the best possible advice and support. It is also important to keep the lines of communication open; regular check-ins will help to ensure that both parties are on the same page.
To get the most out of an outsourced CTO, it is also important to give them the freedom to experiment and innovate. Encourage them to think outside the box and develop new ideas that could benefit your business. By taking these steps, you can maximize the value of working with an outsourced CTO.
The CTO should understand your clients' profiles and their needs so you can be sure that they will be able to provide the best possible service. In addition, by understanding your clients' journey map, the CTO can help ensure the technology implementation process is as smooth as possible.
When working with outsourced CTO Services, it is vital to establish clear metrics and deliverables. This will help ensure that both parties are on the same page and that the CTO delivers value to your business. Sometimes, founders or the company's board are tempted to establish the CTO's KPIs related to daily tasks, like a response time for the company's website or other performance indicators of the company's digital platforms. But it is a very shortsighted stance.
If you have decided to outsource an experienced CTO, don't overload them with tasks that can complete middle-level managers or engineers. Rather, exploit their skills and knowledge to make your company more resilient and long-lasting. What could be the deliverables you can expect from the outsourced CTO?
IT infrastructure audit (including your legacy systems).
Defining what technologies (and how) can improve your customers' experience.
Building and managing the engineering team (in-house or outsourced) given the company's strategy and goals.
Digital Transformation Road Map with the budgeting and milestones.
Augmenting the company strategy with the vision of technology implementation.
Assessment and contracting of IT vendors within the approved budget.
Representation of the company at industry events, meetings, and negotiations (if it is related to the technologies).
Developing company policies in cybersecurity and data protection.
Taking managerial control over all activities related to company digital assets.
Assuring high-quality documentation and knowledge transfer.
Mentorship and supervising their subordinates.
The mentioned checkpoints don't cover the entire responsibility of the CTO; in every case, it could be specific metrics, but the general idea is that expectations and KPIs should be discussed on the shore, not at the ship.
How to estimate and plan the CTO work?
There is no one-size-fits-all answer to this question, as the best model for working with an outsourced CTO will vary depending on a company's specific needs and circumstances. However, here are a few tips on how to estimate the work involved in working with an outsourced CTO:
Per-hour model. Estimate the time needed for regular check-ins and communication, both for planning and decision-making.
Project-based model. You can negotiate the fixed fee for the implementation of the project, including consultation and management.
Subscription-based model. You pay a fixed price (monthly or annually) for a defined amount of hours per week (or month) within which an outsourced CTO is available for your company's projects.
Full-time outsourcing. A full-time outsourced CTO doesn't differ from an in-house expert, but the employer can avoid the hassle of onboarding. In fact, the CTO works on the company's projects, but all administrative routine lies on the vendor side.
The future of the outsourced CTO role
As businesses increasingly rely on technology, the Chief Technical Officer (CTO) role is evolving. In the past, the CTO was responsible for ensuring that a company's IT infrastructure was up to date and fit for purpose. However, the CTO is expected to do much more in today's digital world. They must be proactive in identifying new technologies that can give their business a competitive edge, and they must also be able to translate complex technical concepts into plain English for non-technical staff.
As a result, many companies are now outsourcing this role to specialist firms. This allows them to tap into a pool of experienced CTOs who can provide expert advice and guidance on all aspects of technology. It is clear that the outsourced CTO role is here to stay, and it is set to become even more important in the years ahead.
How to know that the company needs an outsourced CTO?
Even though CTO as a service for startups is the most popular model, not only startups need the outsourced CTO role. Many companies, especially SMEs, experience the need for digital growth intensively but are getting stuck for the lack of technology leadership within the team. They are good at their business but become confused about managing digital transformation. However, here are a few tips on how to know if a company needs an outsourced CTO Service:
Are you struggling to find the right person for the role of CTO?
Does your CTO have too much on their plate and is struggling to keep up with demand?
Do you need someone with specialist expertise in a particular area (e.g., cybersecurity, digital transformation, etc.) that your in-house team doesn't have?
Would you like someone to mentor and supervise your team of engineers?
Is your IT infrastructure outdated or inadequate for your needs?
Are you seeking someone to help you plan and execute your company's digital strategy?
If you answered "yes" to any of these questions, then it may be time to consider outsourcing the role of CTO to a specialist firm.
Frequently Asked Questions
What is CTO as a Service?
CTO as a Service is a model where a company contracts with an outsourced CTO provider to help them manage their technology and digital needs. This can include anything from advice on new technologies to full-time management of the company's IT infrastructure.
What are the benefits of using CTO as a Service?
There are many benefits to using CTO as a Service, including access to expertise, flexibility, and cost savings.
Access to Expertise. One of the main benefits of working with an outsourced CTO is access to expertise. This includes specialized knowledge in information technology, product development, and data security.
Flexibility. Another advantage of outsourcing the role of CTO is that businesses can be more flexible with their needs. If requirements change or the company experiences rapid growth, the CTOaaS provider can easily adapt.
Cost Savings. Finally, using a CTOaaS provider can be more cost-effective than hiring a full-time CTO. This is because the provider will only charge for the used services, which can save businesses money in the long run.
How does CTO as a Service work?
Outsourced CTO Service providers offer various services which can be tailored to fit the needs of each business. Typically, CTOaaS providers will offer technology advice, strategy planning, and full-time management of a company's IT infrastructure. In some cases, they may also offer mentorship and training for in-house engineers. There are a few main models of CTO outsourcing, such as per-hour fee, project-based contract, subscription model, and full-time outsourced CTO.
How can I sign up for CTO as a Service?
If you would like to sign up for CTO as a Service, please get in touch with the Artelogic team. The residents of our development house are savvy technology gurus with a huge experience in delivering complex projects in digital transformation. We would happily offer you a free estimation and discuss your needs.
How much does CTO as a Service cost?
The cost of CTO as a Service can vary depending on the provider and the used services. Typically, CTOaaS cost includes working hours ranging from $40 to $200 per hour. In the resource estimation, you should consider the maturity of the CTO candidate, your project scope, and duration. Besides, many CTOaaS providers grant bonuses and discounts given the project scope and CTO engagement. The best way to figure out it is to discuss it with Artelogic's experts.