Choosing the right language to build your platform is as important as choosing the right material to build your house with. Should you go with PHP, the language used by nearly 4 out of 5 websites across the entire internet? What about .NET, a scalable and robust framework that we developers love for applications? And what are AngularJS, Node.js, and Yii2 all about?
Don't worry: Artelogic has you covered. We have expertise in all these technologies and more. That's part of why our clients keep coming back to us for their website and software building needs.
The other part is, of course, the rest of what we offer in every project: high-quality customer service.
Don't take our word for it! Look to our overall 5-star rating from more than 20 clients, which made us a top software developer in Lviv according to Clutch, a market research firm. We are featured in the top 25 web developers as well on Clutch's sister sites The Manifest, a buyer's guide to B2B firms, and Visual Objects, which showcases our visual work.
One of our satisfied clients is a digital agency located in Belgium. The company needed our expertise in PHP, Laravel, MySQL, and other technologies for several development projects. We provide consulting and testing services as well on an ongoing basis to supplement the agency's in-house development team.
We're happy to say we're still working together, and our partnership is as strong as ever.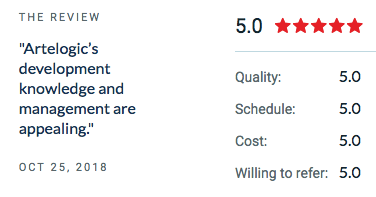 We constantly communicate through Slack and GitLab, and we always offer solutions with our own research, expertise, and analysis. This earned us 5-star ratings across the board.
Bigfood Group, a food production conglomerate, is another happy customer of ours. Their IT team needed outside support on various projects, so we supplied several software developers to each. Our expertise in PHP, MySQL, and Yii2 came in handy for builds such as an internal knowledge management app and an electronic data interchange (EDI) tool.
Our collaboration is also ongoing — and highly successful to boot. The EDI tool solved the food production company's problem of collecting client orders and is now a staple for daily revenue.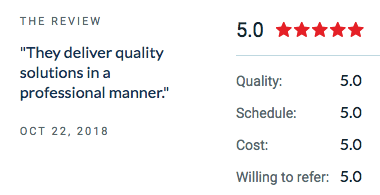 Our consistent communication, work ethic, and advice informed by our in-depth experience once again earned us a perfect score in every category.
"In the end, the team's quality deliverables have created value for cost. … Artelogic invested time to understand our needs and has subsequently proposed appropriate solutions. The team keeps us informed via summaries and daily stand-ups." – Senior Digital Manager, Bigfood Group
These are just two of our many success stories with clients. We pride ourselves in treating every relationship like a partnership. Transparency is key, and so is giving our all in every way we can.
Interested in learning more about how Artelogic can help your next development project? Let's talk today!