Here at Artelogic, we've cultivated a talented team dedicated to our customers' success. We know that each business is unique and requires an individual approach, so we work with our partners to bring their ideas to life. With an emphasis on building true partnerships, our philosophy has helped us deliver more than 120 successful projects worldwide.
Proven to generate results, our team has been named a top development company in Ukraine by Clutch!
Clutch is the leading global platform that publishes verified B2B reviews, providing useful information that helps businesses connect with the best agency for their upcoming project. Helping build buyers' confidence in who they choose to work with, Clutch analysts select top-performing agencies by evaluating their market presence, previous experience, and most importantly, customer ratings.
With dozens of our partners prepared to vouch for our services, we have a perfect 5-star rating on Clutch!

It is an honor to receive industry wide recognition for the quality of our work. We would like to thank our wonderful partners for the time they've taken to provide our team with feedback.
You can see for yourself how we became the best of the best by reviewing our profile on Visual Objects. A catalog of collected portfolio items from top creative agencies around the world, buyers can trust that the results of their project will be top-notch.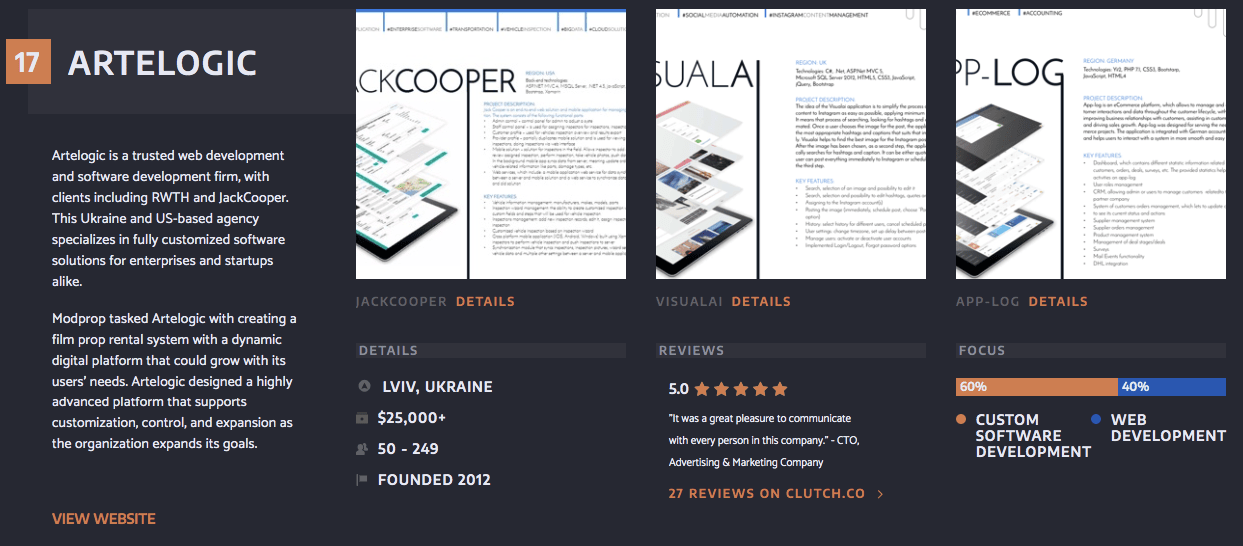 Uncover more about the services we provide by visiting our profile on The Manifest, where we've been highlighted as a top software developer, or by contacting us through our website. We're ready to help you launch your idea.